Savy Design's stainless steel signs are perfect for your home or business, and provide a professional appearence to any establishment.
We mainly produce two types of signage, these being:
We also produce and supply Illuminated Signage by fabricating a stainless steel lighbox with an internal, low voltage, LED light to make the signs visable at night.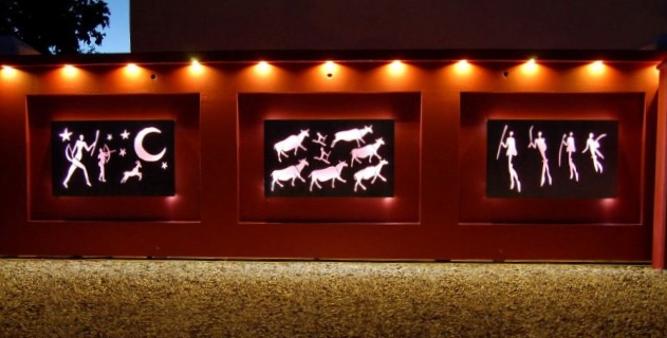 Simply e-mail us at info@savydesign.co.za or call us on: +27 21 712 0100 / +27 83 555 6660 and provide us with the required details.
This Includes:
Dimensions required
Wording required
Any font preferences
Any personalised designs
Your contact details and delivery address
"We received the sign yesterday, and it looks fabulous" - Tanya Long fromJohannesburg
Please note: that letters and numbers are sometimes slightly modified so that all pieces are attached together on one plate and prevents sections - such as the centre of an 'o' -from falling out.
Delivery -
Once you are happy with the layout proposals and give us the go-ahead, we require a 50% deposit prior to commencing with the fabrication. Once the sign has been laser cut, attached with its required mounting option and brushed / polished, we will deliver the sign anywhere in South Africa by courier to your door within 2 - 3 weeks of your order.
Fabrication -
We fabricate our signs by lasercutting sheets of stainless steel. This method allows us to incorporate customized designs, business logos as well as a large variety of fonts. Some of our most popular font choices can be found here.
Material -
We typically fabricate our signs from marine grade stainless steel sheets, which is available in a range of thicknesses. These thicknesses typically are 2 millimetres, 3 millimetres or 4.5 millimetres.
Sign Dimensions -
Our signs can be cut to almost any size; but are limited with regard to the size of the stainless steel sheets and practicality of transport or installation. Savy Design produces four standard sizes which are based on the paper sizes of A4 - A1. You can find more information, as well as pricing of these standard sizes here.
Mounting Options -
Savy Design offers two mounting options:
Mounting Spacers: these are machined from stainless steel. These fittings are fixed into the wall with easy-to install plugs and screws. The sign is then pushed onto the spacers and the screw cap applied - fixing the sign in place. This fitting leaves the sign about 25 millimeters away from the wall. The Mounting Spacers option requires minimal DIY skill.
Mounting Studs: these are welded onto the back of the sign, leaving the face clear from fittings. The sign is mounted onto the wall by drilling holes into the brickwork and bonding the studs in position with Chemical Mortar. A gap is typically left behind the plate, but this gap can be made as big as desired. The Mounting Studs require slightly higher DIY skills, espically with larger signs.
Stainless Steel Finish -
Included into the price of our signs is the cost of a Brushed Finish which removes any unwanted scratches created by the lasercutting process. However, at an additional cost, we are able to offer an alternative mirror polished finish.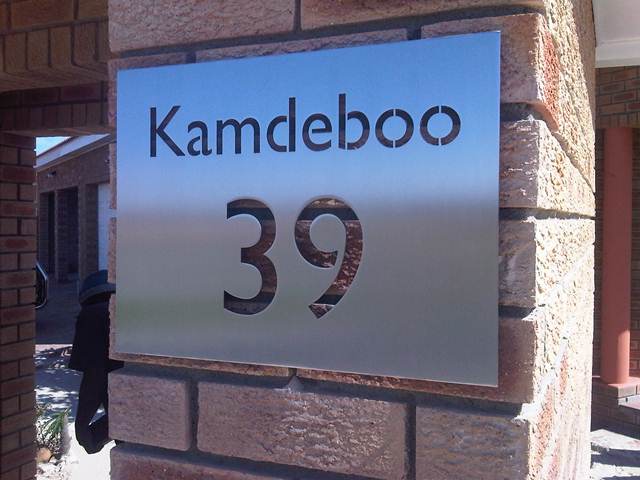 One of our A3 Cut-Out Plate Signs mounted with Mounting Studs with our Brushed Finish.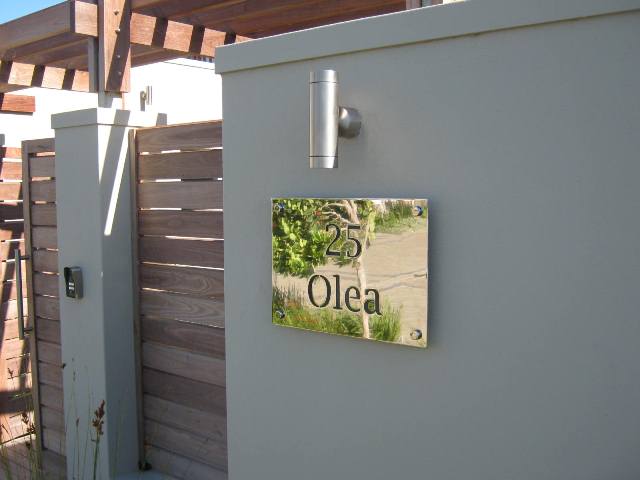 One of our A3 Cut-Out Plate Signs, mounted with Mounting Spacers with our alternative Mirror Polished Finish.
Cleaning -
Usually after the installation process the face of the stainless steel sign will have a few fingerprints on it. These can be easily washed away by using a solution of warm water and dish washing liquid.
This cleaning process can also be used to wash away water marks after rain or from garden sprinklers.
For any other queries or information about our signs, please see our FAQ Page.