Foot operated Sanitiser Dispenser Stands
Developed to combat the effects of the Covid-19 virus with regard to hand sanitisation, Savy Design is now offering an affordable, hygienic and widely available
Foot operated Sanitiser Dispenser Stand.
Our foot operated sanitiser dispenser stands are made from durable stainless steel and have been designed to be both cost effective and aesthetically pleasing, while still being able to handle high amounts of foot traffic.
Features & applications:
Hands-free and easy to use.
Sturdy pedal construction.
Can be used in a variety of wet or dry, high traffic business environments.
Delivered assembled.
Assembled size: 1000mm H x 300mm W x 300mm
Additional option to be securely bolted to the floor via bolt holes in base-plate. (bolts & washers supplied)
Materials:
Our sanitiser dispenser stands are fabricated from Grade 304 brushed Stainless Steel.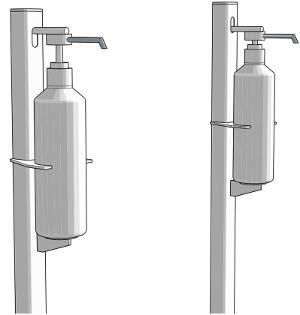 For more info:
Please contact us or call Andrew on +27 21 712 0100 or mobile +27 83 393 1441, or email andrew@savydesign.co.za or matthew@savydesign.co.za