Savy Design's stainless steel signs are perfect for your home or business.
Fabrication - We fabricate our signs by lasercutting sheets of stainless steel, and we can incorporate customized designs or business logos, and a wide variety of fonts.

Fonts - Some popular font alternatives are indicated here.

Types - We typically make 2 types of Signs:
We also supply illuminated signage by fabricating a stainless steel lightbox with internal low voltage LED lighting to make the signs visible at night.

Sign Dimensions - The sign can be almost any size, limited by the available plate size of 3m x 1.5m, and the practicality of transporting and installing. Our Pricing Guide lists examples of paper-sized signs A4 - A0.
Material - We typically make our house signs from 2mm, 3mm or 4.5mm marine grade stainless steel sheets.

Stainless Steel Finish - The finish on the stainless steel is normally a satin (matt) finish, but for smaller signs we can offer a mirror polished finish as an alternative.
Mounting - Whilst our business is structured around the fabrication & delivery of stainless steel signage, we can offer advice on fitting and supply whatever you require to install.
There are 2 commonly used methods to mount the sign on the wall.
1. Stainless steel mounting spacers are fixed to the wall with easy-to-install wall plugs & no special skills are required. The spacers position the sign about 25mm away from the wall.
2. Stainless steel studs are welded to the back of the sign to leave the front face clear. The sign is mounted by drilling holes in the wall and bonding the studs into the holes with chemical mortar. A gap would typically be left between the sign and the wall to create a floating effect. This method requires more skill, particularly larger signs or with separate letters or words to get everything aligned. The easiest way to do this is to clamp the whole sign to a straight edge and then bond the whole assembly to the wall.
Cleaning - After installation, the fingerprints can be washed away using a solution of warm water & dish-washing liquid.
For more information on sign mounting systems and care of stainless steel. see our FAQ page.
How to Order Your House Sign
Simply call Savy on 021 785 1075 or 083 555 6660, or e-mail us your required numbers and wording for your house sign, with your preferred sign dimensions to info@savydesign.co.za, and we will respond with a layout proposal and quotation.
We can accommodate most common fonts, and can include personalized designs.
Note that the letters and numbers are slightly modified so that all the pieces are attached together in one plate.
If you require a personalized artistic design, please send along an indication of what you require and we will endeavor to replicate it as a cut-out in the stainless steel sheet.
Delivery - Once you are happy with our proposal and give us the go-ahead, we will commence with fabrication, and deliver the house sign anywhere in South Africa by courier to your door within 2 - 3 weeks.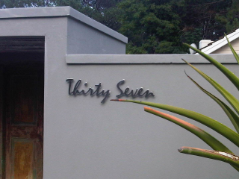 Cut-out Text Sign with fixing studs welded behind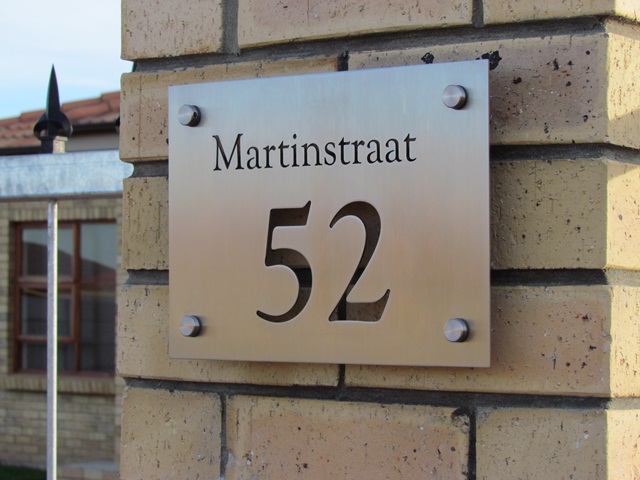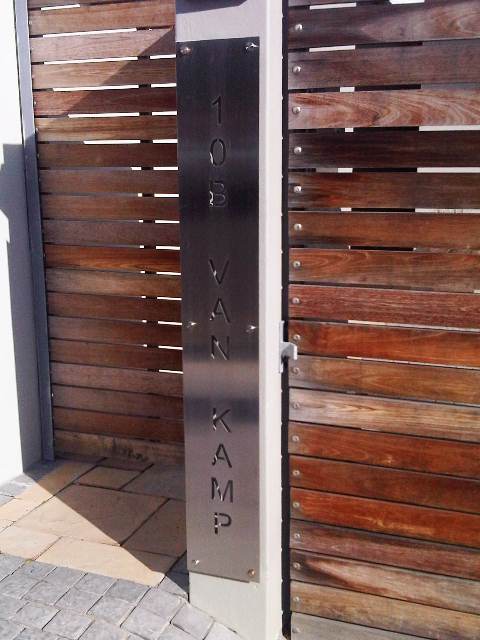 Cut-out Plate Sign with mounting spacers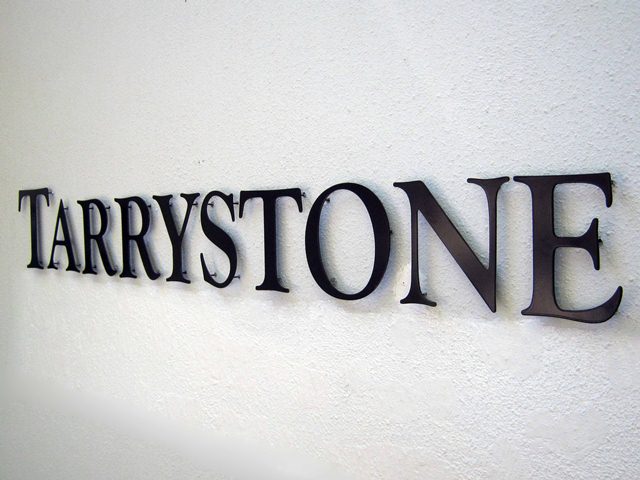 Cut-out Text Sign with fixing studs welded behind in grade 3Cr12 stainless & powder coated black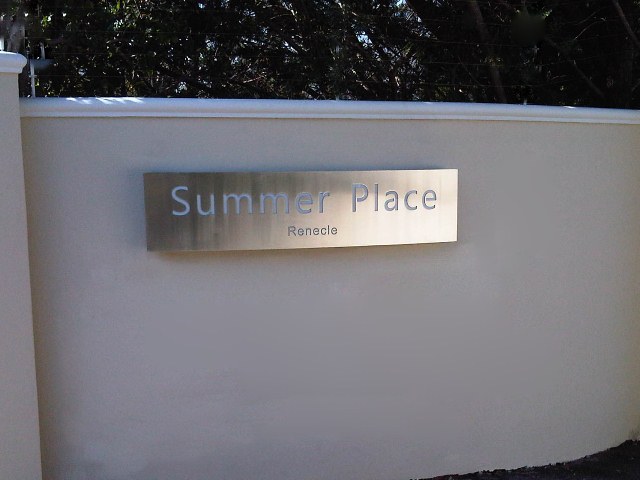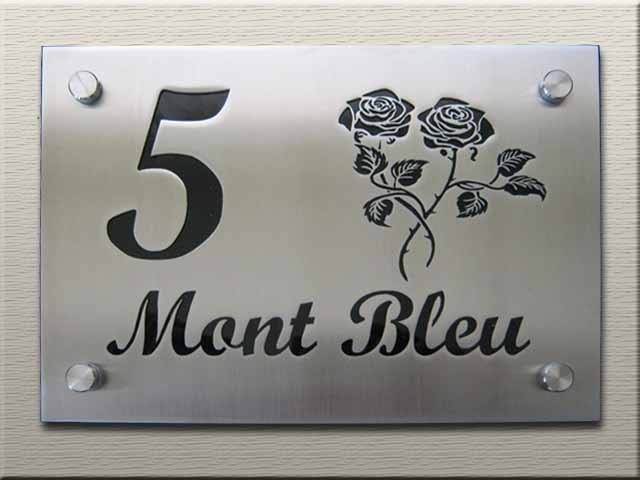 Cut out plate with rose design and black backing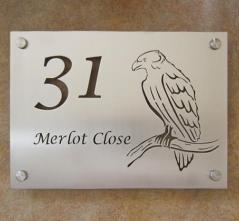 Cut out plate with eagle design

"The service and quality of product was exceptional"

Julie - Gauteng


"Thank-you, I have received my house number. We are absolutely thrilled; it is precisely what we hoped for. Thank you for the fantastic service!"
Jillian - Gauteng
" I received my sign yesterday and it looks awesome. Thank you."
Devi - Gauteng